Also nestling in the box and carefully wrapped in tissue paper so as not to damage Steiffi the Ellie was this attractive simply styled little wooden horse. Hello little Horsey. Would you like to be all mine? Thank you very, very much Auntie Susan.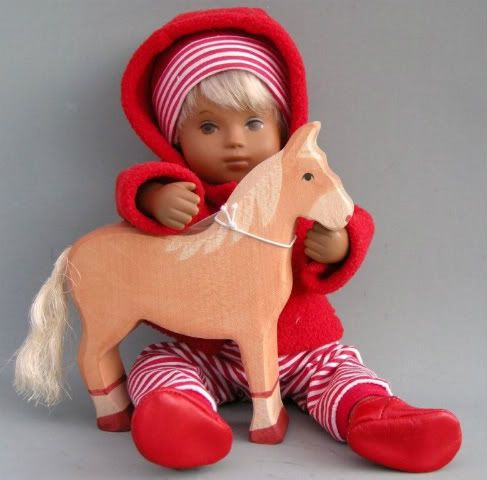 I have always loved the simplicity and 'back to nature' look of Children's wooden toys. Most of my daughter's first childhood toys were made from this material, the plain coloured building bricks in all shapes and sizes from Galt Toys and P&M Abbatts in Kensinton, a beautifully carved pull-along train with trucks/carriages and passengers, a flat bottomed tug boat complete with sea-captain, a little red racing car with bright yellow wheels and driver, an aeroplane with pilot and passenger, a hobby horse, steamroller and my favourite of all, a grey and red dumper-truck that could tip it's loads, followed by one of the very first Lundi doll's houses and a construction set called Timberbuild (from which houses and stables etc. could be made) all from Heals in Tottenham Court Road and made entirely from natural wood with an occassional splash of a primary colour. (I always wanted to buy her the Galt Toy Noah's Ark but it was so expensive that I never actually managed it.)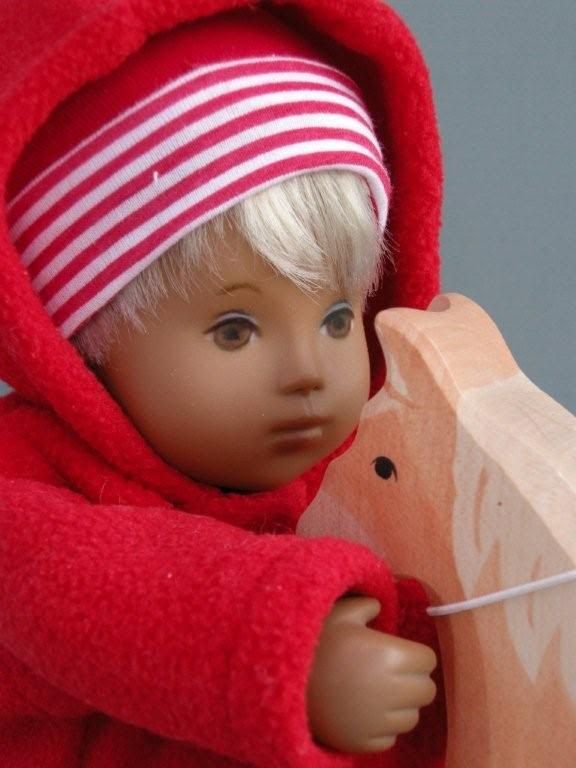 You look to be a nice sturdy animal that can endure years of play and I love your 'stringy' tail. The gently painted on details are just perfect and don't distract from the overall natural wood look.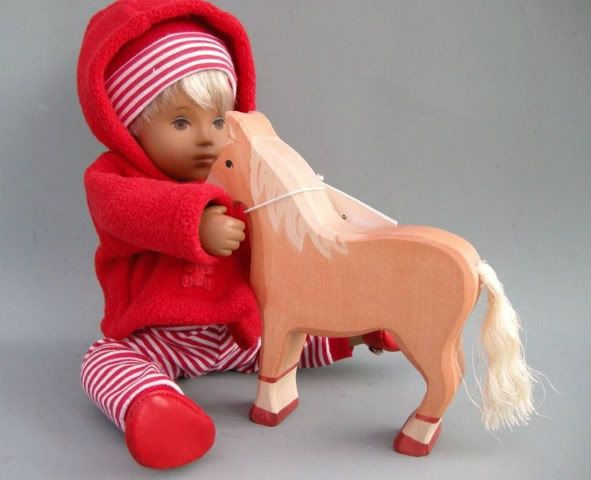 I think that this photo shows the very special trust that so often occurs between man and horse. I was lucky enough to to have my brother's and sister's pet horses around me when I returned home from boarding school and in those following years before I got married my father bought me a 17 and a half hand thoroughbred ex- race horse called Harleythorne. She was later sold on for breeding when I moved to live down on the South coast due to my husband's job.
I just adore this tender and loving look that is being given to 'Horsey' by this Sasha baby. It reminds me of the relationship between my daughter and her dappled-grey Welsh show pony, Greadon (Grey on account of his colouring and Don, the first part of our then surname, Donnelly) that I bought for her with my very first teacher's paypacket.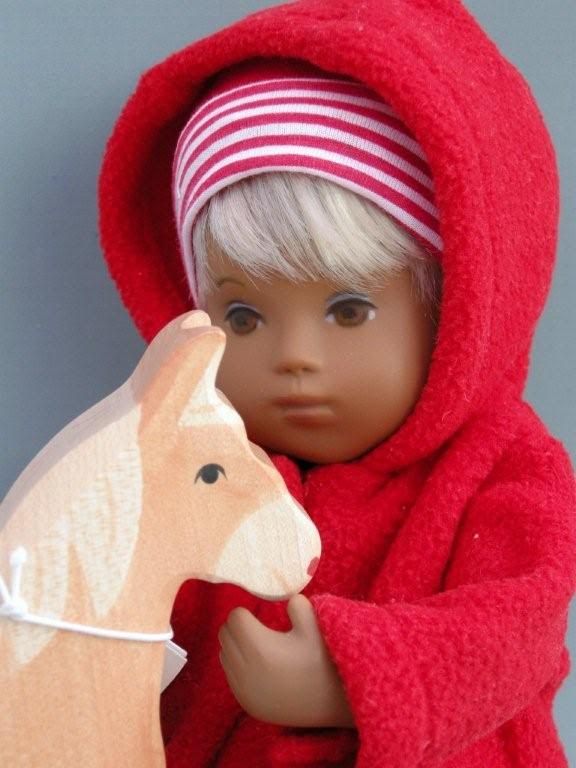 Hugs and thanks are being sent to Susan for this second wonderful gift and of course to Sarah for her fabulous photo downloading.