This is the first of four parts to this book but unfortunately the light from the conservatory windows shining on the pages doesn't do justice to the actual wonderful quality of the publishing.
Chon had decided that she would give me a Sasha book every birthday and Christmas and that we should choose a theme each time. This one is entitled 'Kendal's Sasha Brood, The Dollydoodles Fashion Edition' since I just ADORE Dollydoodles leisure wear.
Naturally Fritz, my 1960s, sharp nosed, slate eyed Gotz lad had to feature on the front dust cover in his now famous Dollydoodle OOAK surfing hoodie.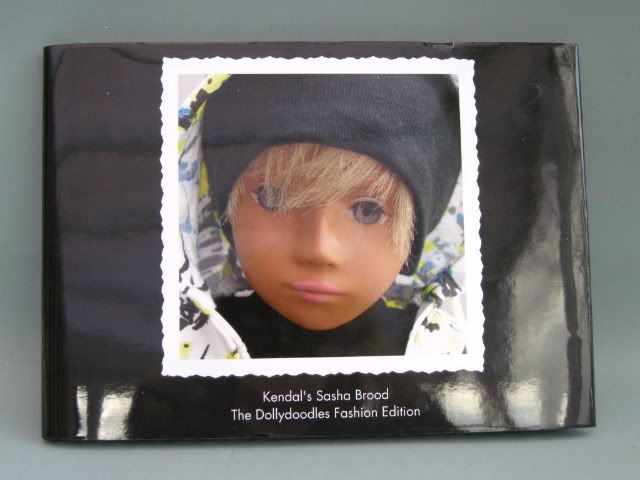 This is the very first prototype Dollydoodle's sleepsuit that was sent to me to try on a Sasha baby whilst Judith searched for one of her own. These are the very photos that I sent back to Judith to show her the fit. As you can see it proved to be almost perfect although some of the proportions were initially a little generous.
Trendon 1970s little black baby, Bea a 1990s customised Gotz Toddler and Irka, a 1990s Gotz 750 limited edition baby with enhanced eyes by Shelly.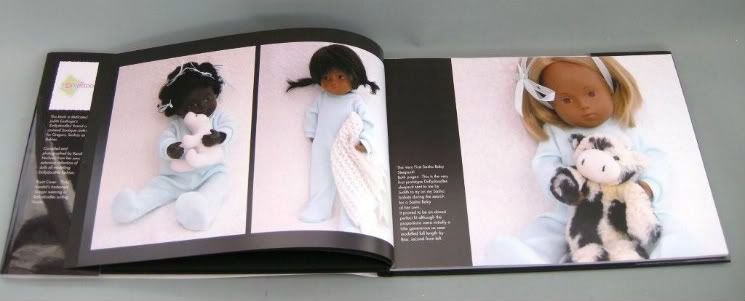 Trendon baby, Little Stevie (given to me by Steve Kingaby for my 70th birthday present) wearing a limited edition outfit made especially for him by Judith.
1966 Frido NP re-rooted by Lisa Hartley and a 1960s crude eyed Gotz doll wearing Dollydoodle's hoodies.
1970 Gotz No-navel, 1967 bobbed haired Frido NP waif, another 1967 Frido NP with beautiful eye painting, and a 1970 wigged Gregor all wearing Dollydoodle hoodies and leggings.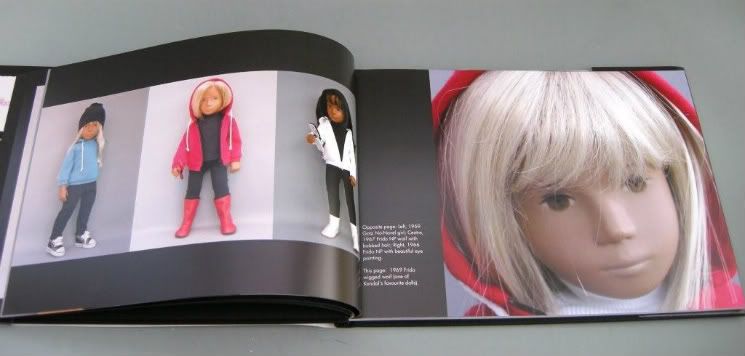 'In the Red, Pink and White!' 1970 Trendon wigged Gregor, Fritz, a 1960s Gotz, 1960 Gotz crude eyed girl and a wide faced 1970 Trendon Gingham waif all looking very 'Trendy' wearing Dollydoodle Summer wear.
All my Gregor lads in Dollydoodle leisure wear. This is Judith's favourite photo of mine. She calls them 'The Likely Lads.'
Up until Judith's Gregor hoodies, joggers and saggy beanie hats appeared on the market I hadn't been very enthusiastic about the Gregor dolls but now I can't seem to buy enough of the 'lads' to wear the 'iconic' gear.
Ross, a Frido 1969 Gregor, with his newly rooted hair by Jackie Rhydstrom, enjoying a day out at Llandudno in his OOAK hoodie and shorts outfit. (I love the overall blue colour scheme here.)
My daughter likes these two pages the very best in the book.
My Trendon girls in blue!' A very pretty 1971 girl, Eline a 1969 re-rooted by Jackie and Belle,a 1970 Gregor customised by Shelly all looking 'cool' in shades of blue.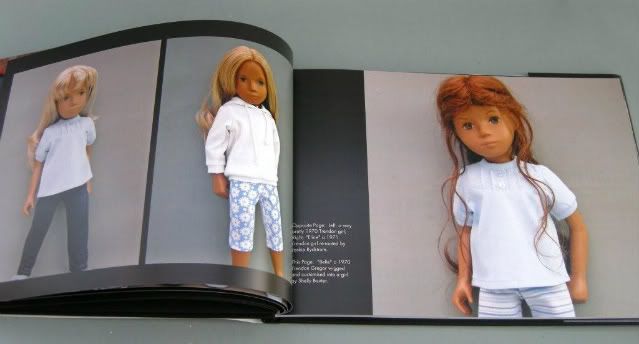 Tons of thanks to Sarah again for her invaluable help in listing the above photos.
The book continues tomorrow if you are interested.