We have decided that it is time for Ross to have some new hair so after some extensive searching and asking around Jackie Rhydstrom has very kindly offered to give him the blonde locks that he so desires after being a brunette for the first six/seven years of his life and a wigged red head (thanks to Ted's kindness) for the last several months.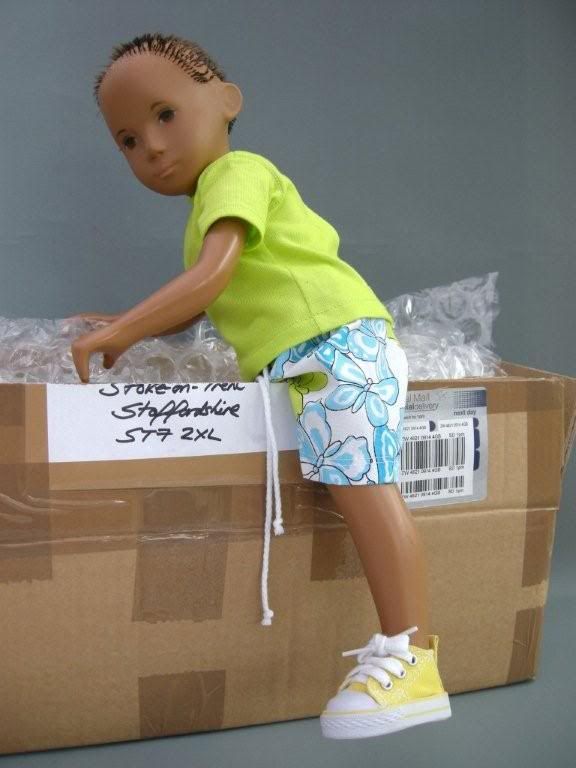 After being suitably dressed in Dollydoodle's beach wear for his visit he is settling down into one of sashadolluk's sturdy, but cosy travelling boxes ready for his journey to sunny Spain. Are you lying comfortably then I'll tape up the box and head to the Post Office?
After leaving Alsager on the Monday he quickly arrived at Jackie's on the Spanish Mediterranian on the Thursday and is soon climbing out of his box non the worse for wear.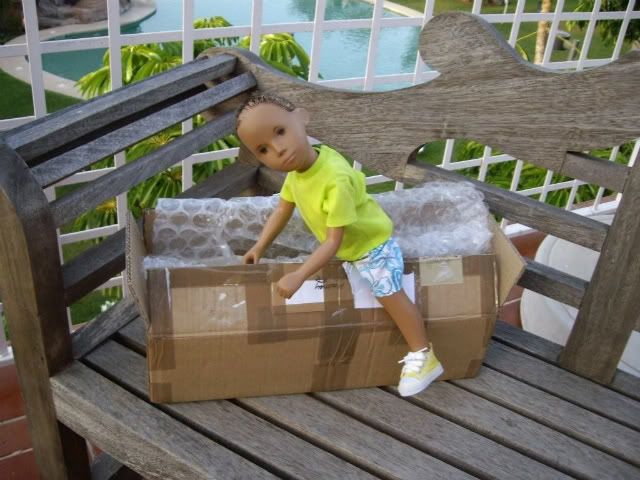 Hello Mummy! Look at where I am? Did you see the swimming pool in the photo above? I feel as though I'm on a mini holiday.
After a little nourishment and a rest Jackie prepared his head ready to start his re-root the moment his new two tone wavy blonde locks arrive in the post. (He has assured me that it didn't really hurt too much.)
He has decided that he would like to have hair like Jon Bon Jovi's when he was young... BUT we shall see!!!!
Watch this space for updates.
More thanks to Sarah Williams for again listing mine and more importantly Jackie's photos in this large format.