This is a Frido 1967 Brown Cord dress girl who came in her complete original outfit and large white box.
Here she is dressed in an eseacaper duck egg blue with a dainty navy blue design outfit, which handily arrived on the same day as the doll (so didn't have the mess and upheaval that I seem to make when rumaging through my three large Sasha Doll clothing boxes trying to find something to suit her) and now teamed with navy JJ sandals and manufactured pale blue socks.
I was attracted to her as she has an unusual 'wide-open somewhat startled' look.
Her hair is unfortunately in need of a good wash as it is rather grey and dusty from storage but as I have never washed a Sasha's hair before it will have to wait until Sarah Price comes over to visit and do it for me.
This is the very first outfit (via eBay) that I have bought from Nikita (although I now have a second dress set given to me by Sarah P. for my birthday present) and was delighted with her presentation and packaging. The padded 'jiffy' bag was attractively coloured in an orange and pink all-over pattern making extremely recognisable from a distance and the actual outfit inside was hung on a little Sasha sized white coat hanger with that matching blue hair ribbon tied in a bow on the handle and all swathed in several sheets of snow white tissue paper. A real pleasure to receive and open. Thank you very much Nikita.
The next three photos show her varying different facial looks that I so love about these earlier hand-painted eyed dolls.
Looking forward and upwards.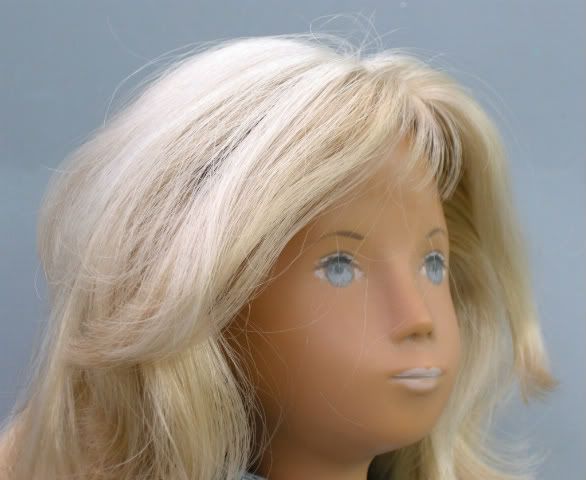 Expectant?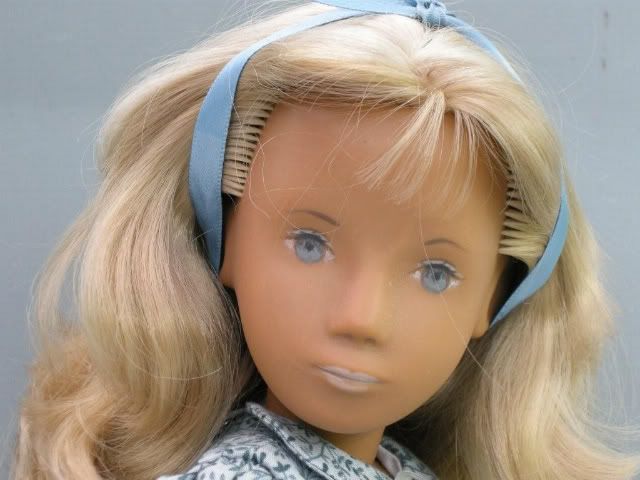 A little bit sad?
Usual apologies for all the flyaway hairs straying across her face.